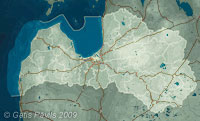 Coordinates:

56°54'00,32'' N 24°11'57,61'' E Google Maps
(localisation not exact, possible mistake up to 200 metres)
More information:
This manor house from 17th century has not been preserved.
Properties of this manor were located in both sides of Riga - Moscow tract which was going through the inner yard of manor. Closer to Riga there was Krusta tavern, in the manor centre there were also numerous houosehold buildings, forge, and - manor house. In 17th century here has been shown cemetery. It is possible that the name of manor comes from cemetery - Krusts in Latvian is - cross. Another explanation - manor is at the junction - next to it in Daugava there was crossing and road was going towards it.
In later times in the centre of manor there was established school, barracks.
Images
---
References
Villeruša V. Gājums, Rīga, Kabata, 1994, p.34.
Broce J.K. Zīmējumi un apraksti, 2.sējums, Rīga, Zinātne, 1996, p.461.