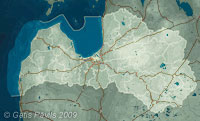 Coordinates:

56°57'31,86'' N 24°09'54,72'' E Google Maps
(localisation not exact, possible mistake up to 300 metres)
| | |
| --- | --- |
| No: | 129 (list of all monuments) |
| Category: | Palaces and manor houses |
| Address: | Riga, Purvciems, Kronu Street 21, near Braslas Street 22 |
| Versions of name: | Fisera muizina, Grizenberga muizina, Griesenhof, Griesenbergshof, Hinterbergen, Brauershöfgen? |
| Year of construction: | 1678., 1743. |
| Architectural style: | Barocco |
| Condition: | Does not exist |
| Value: | Architecture |
More information:
Grizinkalns manor has seen how formerly remote part which seemed to be far from Riga has been transformed beyond recognition. Now the site of the manor is almost in the centre of city.
History
Approximately in this site in the map from 1700 (2.) there is marked a manor house from 17th century "Brauershöfgen". This manor was established on the land of farmer Zibarts by Riga householder Brauer in 1678. In 1705 it belonged to Schiffhausen. Destroyed during the Great Northern War in 1709.
At the drawing of J.C.Brotze from 1796 (2., 95 lpp.) there is description which tells that this manor was built by doctor Johann Bernhart (Bernhard) von Fischer (1685-1772). Brotze mentions that Fischer (private doctor of Russian empress Anna in St.Petersburg n 1734 - 1740) returned to Riga in 1742, as empress Elizabeth came to power. He spent his wane of life in this manor and was occupied with science and arts. He wrote under the psedonym Montan zu Hinterbergen. Fischer tended barren surroundings of manor and shaped beautiful park and garden. Fischer himself named his manor - Hinterbergen (place behind hills) because it was hidden from riga by sand hills of Grizinkalns. Many belittled his choice to build a manor here - as an answer to this he wrote a poem issued in 1745 and named "Winter and summer joys of Hinterbergen" (Hinterbergens Winter- und Sommerlust).
In 1794 manor became property of merchant and sorter Griesen - Grizinkalns got its present name from him. In 1903 south from the manor there were planted trees in sand hills - now here is located Grizinkalns park (Park of year 1905).
Up to 1940 whole area of Grizinkalns manor between Ieriku and Purvciema Streets was managed by Grebenscikov charity institution (society of home for the disabled) - here were located meadows and gardens. Next to railway there were built storage capacities for oil products.
Description
In 1797 (drawing by J.C.Brotze) manor house is simple, wooden building typical for Vidzeme in 18th century. Loghouse building had windows with small panes, steep tiled roof, around the area there is loghouse fence. House was built on stone fundament. Pediment built in fachwerk technique. In front of the building there was planked platform with long benches.
Images
---
References
Kaupuža D. Rīgas muižiņas. Latvijas architektūra, Rīga, 2005, p.95.
Broce J.K. Zīmējumi un apraksti, 2.sējums, Rīga, Zinātne, 1996, pp. 35.,104.
Enciklopēdija Rīgas ielas, 2.sējums, Rīga, 2008, p.23.
Rīgas plāns, 1:50 000, Ielu apgaismošana, 1930
Plan der Gouvernements Stadt Riga nebst Umgebung, R.Stegman, 1876