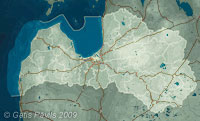 Coordinates:

56°57'56,87'' N 24°06'13,73'' E Google Maps
(localisation not exact, possible mistake up to 50 metres)
More information:
This manor hosue from 17th century is shown in the owrk of J.C.Brotze, in a map from 1700 which has been drawn anew. It can be localised due to its peculiar location between the old pasture road (Rupniecibas Street) and a pond in Viesturs garden. It is possible that this manor house coincides with another one - there were numerous manors in this area.
Images
---
References
Broce J.K. Zīmējumi un apraksti, 2.sējums, Rīga, Zinātne, 1996, p.144.