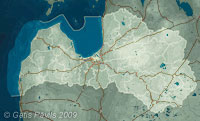 Coordinates:

56°59'13,66'' N 24°01'07,64'' E Google Maps
(localisation not exact, possible mistake up to 300 metres)
More information:
Manor house has not been preserved. Shown in the work of J.C.Brotze, in the map of surveyor E.Tolks which is dated with 1701.
Approximately in this location in 2007 there has been opened a hotel (new building) named "Dubultmuiza" - Dubulti manor. It is possible that this name has got roots in history.
Images
---
References
Broce J.K. Zīmējumi un apraksti, 2.sējums, Rīga, Zinātne, 1996, p.463.