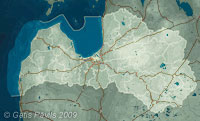 Coordinates:

56°59'19,66'' N 24°13'57,24'' E Google Maps
(localisation not exact, possible mistake up to200 metres)
More information:
Manor house has not been preserved. It was located in the former land plot No.232., here in early 20th century there was Brethren Steinberg tannery. Up to the end of 19th century here was Martins tavern where in 1883 there took place the first Latvian theatre performance in Jugla.
---
References
Enciklopēdija Rīgas ielas, 2.sējums, Rīga, 2008, p.124.