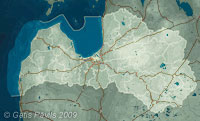 Coordinates:

56°59'26,34'' N 24°14'41,32'' E Google Maps
(localisation not exact, possible mistake up to 200 metres)
More information:
Manor house has not been preserved. On the land of this manor up to the First World War there was located the house of the road custodian which was under the supervision of Riga city. Next to it up to the middle of 19th century there were standing "cossacks" on guard who escorted drivers through the forests of Jugla and Smerlis up to Rauna gates in order to protect them from highwaymen.
---
References
Enciklopēdija Rīgas ielas, 2.sējums, Rīga, 2008, p.124.