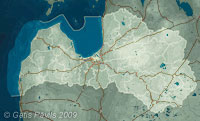 Coordinates:

56°59'31,96'' N 24°12'20,74'' E Google Maps
(localisation not exact, possible mistake up to 50 metres)
| | |
| --- | --- |
| No: | 87 (list of all monuments) |
| Category: | Palaces and manor houses |
| Address: | Riga, Jugla, in the area of Pakalniesu Street 22 - 26 |
| Versions of name: | Arhireja muiza, Archiereis Höfchen, Ozolkalns manor, Eichenberg Höfchen |
| Year of construction: | ? |
| Condition: | Does not exist |
| Value: | Architecture |
More information:
Nowadays there exist only household buildings (?) of this manor and few old trees of the former park. Manor was owned by th archbishop of Orthodox church.
Circa 1833 to this manor there were transported details of the dismantled Trinity orthodox church from Military hospital (initially it was located in the area of Upes Street). This small church was burned down in 20th century - most likely together with the manor house.
In October 1934 here happened terrible crime - owner of manor house - Orthodox archbishop Janis Pommers was killed and manor house was burned down.
---
References
Kaupuža D. Rīgas muižiņas. Latvijas architektūra, Rīga, 2005, p.95.
Jakovičs A. Rīgas ekotūrisma atlants
Broce J.K. Zīmējumi un apraksti, 2.sējums, Rīga, Zinātne, 1996, p.204.