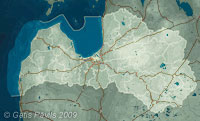 | | |
| --- | --- |
| Coordinates: | 56°57'24,39'' N 24°03'20,96'' E Google Maps |
| | |
| --- | --- |
| No: | 72 (list of all monuments) |
| Category: | Palaces and manor houses |
| Address: | Riga, Dzirciems, Eizenijas Street 20 - 22 |
| Versions of name: | Gerstenmeijera muiza |
| Year of construction: | 19th c.? |
| Architectural style: | Neo-Classicism |
| Condition: | Rather bad, reshaped |
| Value: | Architecture |
| Conservation status: | Not protected |
More information:
Small, reshaped wooden manor with colonnade. Building has been reshaped and fence divides the garden betwee two owners, building is hidden behind thick bush.
In the opposite side of the street, in Kirsu Street 4 there is interesting wooden building in Neo-Classicism style - it resembles reshaped household building of former manor centre.
Images
---
References
Kaupuža D. Rīgas muižiņas. Latvijas architektūra, Rīga, 2005, p.95.