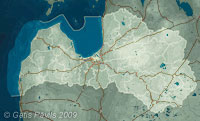 | | |
| --- | --- |
| Coordinates: | 56°57'49,12'' N 24°07'39,16'' E Google Maps |
| | |
| --- | --- |
| No: | 57 (list of all monuments) |
| Category: | Palaces and manor houses |
| Address: | Riga, Centrs, Sarlotes Street 3 |
| Versions of name: | Sarlote manor, Berneckens Hof? |
| Year of construction: | Late 18th c. |
| Architectural style: | Barocco |
| Condition: | Rather good |
| Value: | Architecture |
| Conservation status: | Not protected |
More information:
One of the few manor houses in the central part of of Riga is Vagner manor from late 18th century. It is in comparatively good shape.
Wooden building, in plan shaped like horseshoe. Facades are different - "intimate" facade has got attic but "businesslike" one has got two floors. Facades have been plastered in later times.
In the works of J.C.Brotze on two maps from 1700 there is shown manor house which is located approximately in this area - "Berneckens Hof". It is located on the northern bank of Smilsu dzirnavu channel (Sand Mill channel - not existng today). Author has no information whether this is the same Vagner manor.
Images
---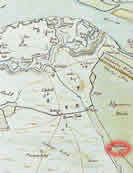 Berneckens Hof on the map of J.C.Brotze, redrawn from the map of E.Tolk, fragment.
Original drawn circa 1700.
---
References
Koka Rīga, Rīga, Neputns, 2001, pp.61., 93.
Kaupuža D. Rīgas muižiņas. Latvijas architektūra, Rīga, 2005, p.95.
Broce J.K. Zīmējumi un apraksti, 2.sējums, Rīga, Zinātne, 1996, p.35.