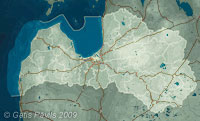 Coordinates:

56°57'28,94'' N 24°06'36,12'' E Google Maps
(localisation not exact, possible mistake up to 600 metres)
More information:
Most likely the hospital of St. George obtained their land together with the decision of the papal legate William of Modena about the borders of the rural properties of Riga in 1226. Initially hispital was located next to the walls of Riga between the present-day Lielo Kaleju und Skarnu streets (in Old Riga) but in 14th century it was moved outside the city walls to the area of present day Jura Alunana and Andreja Pumpura Streets. This hospital was subordinated to Riga city council.
On the way from the city to hospital there was located the garden of city and fields - managed by manor established in 1417. Next to the hospital there was located the manor house of the city (mentioned in 1399) - it was rented to householders per 2 marks in year. There were other apartment buildings nearby as well.
---
References
Šterns I. Viduslaiku Rīga ārpus Rīgas, Senā Rīga. Pētījumi pilsētas arheoloģijā un vēsturē, Rīga, Latvijas Vēstures institūts, 1998, p.350.