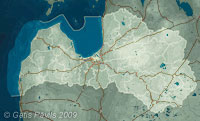 Coordinates:

57°00'45,41'' N 23°58'24,92'' E Google Maps
(localisation not exact, possible mistake up to 50 metres)
More information:
This manor house has been first mentioned in 1495 and was property of Johann Bildering (Buldering). It is possible that it got its name from him and later the same name was given to the Bullupe - former main bed of Lielupe river. But it is more possible that it got its name from the widebody boats used here - Die Bulle (German)(4.). Later, at the end of 16th century it was property of the secretary of Courland duke Paul Spankau. He was owner of manor also in 1621, as approved by king of Sweden Gustav Adolphus. Manor is shown on the map from J.C.Brotze dated with 1783. Nowadays just few subsidiary buildings remain.
---
Images
---
References
Kaupuža D. Rīgas muižiņas. Latvijas architektūra, Rīga, 2005, p.95.
Broce J.K. Zīmējumi un apraksti, 2.sējums, Rīga, Zinātne, 1996, pp.33., 272.
Latvijas armijas ģenerālštāba kartes, 1930.
Pope A. Rīgas galvenā nomale, Rīga, Zelta grauds, 2005, pp.14.,15.