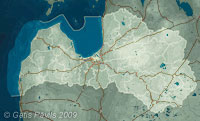 Coordinates:

56°54'49,39'' N 24°05'06,95'' E Google Maps
(localisation not exact, possible mistake up to 100 metres)
More information:
Atgazene manor has been built at the side of the old Jelgava road, it was located some 3,9 kilometres from the centre of Riga.
History
This manor in the 17th century belonged to the elder of the Great Guild Gotthard von Vegesack - name of the manor was derived from his family. Latvianisation of this name - Atgāzene - is name of current neighborhood around this manor between Vienibas gatve and Riga - Jelgava railway. In 1677 manor owned 51,23 ha of land - there were located 13 farmsteads on it with, each with garden. The land here was not especially fertile.
At the beginning of 18th century, during the Great Northern War the manor and nearby farmsteads were burned down. During the epidemics of plague in 1710 there died owner of the manor and hs wife. According to J.C.Brotze the manor went in disrepair.
In 1713 there returned the son of Vegesacks Gotthard from prolonged foreign travel - there were only rosebushes at the site of the house of his parents. Surroundings were altered so much that Gotthard did not recognise the location of the manor and it was shown to him by one local farmer. Vegesack junior obtained the rights of possession over the oldest par of his parents and built a new manor here. Gotthard Vegesack was considered to be a respected and fair man, he died in 1764. Since 1800 the manor belonged to merchant Justus Blankenhagen - he built a new residence here.
In 1897 M.Schoenfeld established a sanatorium "Atgazene" and Schoenfeld clinic for nervous disorders. Here was located the rehabilitation unit of Soviet army after the Second World War.
The building of the manor house has perished in recent years.
Characteristics
J.C.Brotze has shown a view on Vegesack manor from the inner yard (1797) - in the forefront of the drawing there is wooden household building, log fence with gate. Behind the fence there is seen only the tiled roof of the manor with chimney.
Images
---
References
Broce J.K. Zīmējumi un apraksti, 2.sējums, Rīga, 1996, 245. lpp.
Kaupuža D. Rīgas muižiņas. Latvijas architektūra, Rīga, 2005, 95. lpp.
Latvijas piļu un muižu asociācijas mājaslapa, visited in 10th June 2009.
Rīgas ielas, 1.sējums. Rīga, 2001, 196.lpp.
Situations-Plan der Riga'schen Vorstadte, Riga den 13 Marz, 1879, Steinbach