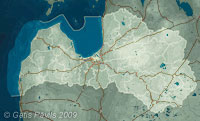 Coordinates:

56°56'32,20'' N 24°05'39,40'' E Google Maps
(localisation not exact, possible mistake up to 400 metres)
| | |
| --- | --- |
| No: | 24 (list of all monuments) |
| Category: | Urban apartment houses |
| Address: | Riga, Agenskalns, Kliversala, approximately in the area of Valguma - Staraja Rusas Streets |
| Versions of name: | Leluchinsche Wohngebäude |
| Year of construction: | Second half of 18th century |
| Architectural style: | Barocco |
| Condition: | Does not exist |
| Value: | Architecture |
More information:
The house of Leluchin was one of the most beautiful buildings in the oldest urban part of Pardaugava (western part of Riga across Daugava) – Kliversala. Unfortunately this building has not been preserved.
History
At the second half of 18th century there arrived Russian merchant Simon Leluchin from Vyazma. In 1789 he obtained the secret recipe of balsam from the relatives of its inventor – blacksmith Abraham Kuntse. Leluchin started to produce balsam in industrial amounts in special factory constructed in Kliversala. This enterprise was very successful, major part of balsam was shipped to Russia. There were produced special containers for it nearby - in Helmund factory in Zunds. In 1792 the factory was inherited by son – Georg Leluchin. Enterprise suffered heavily from the decision from 1796 – this decision of Russian Empire forbade to sell this balsam outside pharmacies. In 1808 the enterprise was closed.
Properties of Leluchin were especially valuable and his house was one of the most prominent ones in Kliversala. Next to it there was a beautiful garden, in 1793 here was arranged greenhouse.
Leluchins sold the house in 1808, in 1813 it was purchased by hemp swingler Martins Slava.
The building has not been preserved up to this day.
Description
In the drawing of J.C.Brotze there is depicted large building in Barocco style. It has got high basement floor – most likely as a protection of floods in nearby Daugava river. Basement floor has got small windows. Building is built of wood, above the first floor there is mansard floor with balcony. Balcony has got ornate banister.
---
References
Broce J.K. Zīmējumi un apraksti, 2.sējums, Rīga, Zinātne, 1996, 215. lpp.