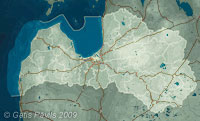 Coordinates:

56°56'46,67'' N 24°04'27,67'' N Google Maps
(localisation not exact, possible mistake up to 40 m)
| | |
| --- | --- |
| No: | 19 (list of all monuments) |
| Category: | Palaces and manor houses |
| Address: | Riga, Agenskalns, Sloka Street 16, in location where now stands the building of State Archive |
| Versions of name: | Zuckerbecker Höfchen, De huis in det bosch |
| Year of construction: | Second half of 18th century |
| Architectural style: | Barocco |
| Condition: | Demolished in 1908 |
| Value: | Architecture |
More information:
Zukerbecker manor was a typical wooden manor of Riga suburbs, built in Barocco style. Unfortunately the building was destroyed in 1908 to give a place for the building of State Archive which stands here up to this day.
History
Zukerbecker family came to Riga from Brabant and were influential merchants. The manor house most likely was built by the owner of export enterprise, freemason Thomas Zukerbecker - he established the craft of freemasons in Riga in 1761. He bequeathed his manorhouse to his wife - value of the property was 800 thalers. His widow died in 1821, in 1826 died son Thomas - owner of one of the largest private libraries in Riga with more than 2000 volumes. All properties of Zukerbeckers, including this manor and one more manor, were sold in auction. This manor was sold per 850 silver roubles.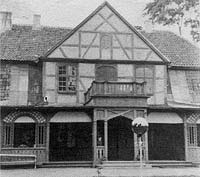 Zuckerbecker manor around 1900. Lustrous ball in the front of the building - once popular and practical element of decoration for suburban houses.
The building was dismantled in 1908 in order to give a place for the building of Riga city pawnshop - now Latvian State History archive.
Description
In front of the facade there was added veranda in Heimatstil with wooden openwork ornament - most likely it has been built in the fourth quarter of 19th century. This apartment building was located along the street but the entrance was from the courtyard. At the end of 18th century the area of the manor was encircled with high, dense fence of wooden planks. At the end of 18th century the timber frame of the second floor was emphasized with a dark color, background was light. This coloring differed from the colors of the remaining building. Second floor was inhabited as well.
In the front of the building at the beginning of 20th century there was a decorative element - lustrous ball which served as a peculiar mirror. Such element was characteristic at this time.
Other images
---
References
Koka Rīga, Rīga, Neputns, 2001, 92., 99., 195. lpp.
Kaupuža D. Rīgas muižiņas. Latvijas architektūra, Rīga, 2005, 95. lpp.
Broce J.K. Zīmējumi un apraksti, 2.sējums. Rīga, Zinātne, 1996, 274. lpp.