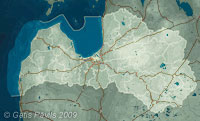 | | |
| --- | --- |
| Coordinates: | 56°56'50,28'' N 24°04'12,14'' E Google Maps |
| | |
| --- | --- |
| No: | 185 (list of all monuments) |
| Category: | Pastorates |
| Address: | Riga, Agenskalns, Balozi Street 27 |
| Condition: | Good |
| Year of construction: | 1902 |
| Architect: | W.Bockslaff |
| Architectural style: | Jugendstil (substyle - Heimatschutzstil) |
| Conservation status: | Architecture monument No.7711 |
More information:
In the church of St.Martin, as it was common in 19th century, there were served congregations speaking in different languages. As the numer of inhabitants in Agenskalns district increased at the end of 19th century - beginning of 20th century and their social needs increased, it became necessary to establish separate public centres for congregation of each nationality.
In 1902 (1901? - 1.) there was constructed the stylish pastorate of German congregation. Architect of the building - W.Bockslaff, project has been preserved in the archive of architect.
Pastor of German congregation E.Geyersberg was living in the building in 20ies - 30ies of 20th century, here was located library of the Agenskalns unit of German women's union "Frauenbund" until 1939.
After the Second World War here was located the 40th septennial school. Later here was located Pavuls Jurjans academy of music for children, established in 1946. Initially this school was located in premises of Agenskalns gymnasium.
The two-floor masonry building has got a French roof. Veranda does not exist anymore - here has been added a new part of musical academy.
In the first floor there are two groups pf premises. One consists of hall, dining-hall and veranda with terrace. Second group is more intimate - bedrooms, kitchen, bathroom, storeroom and small room for servant. Each group of premises has got separate entrance and very comfortable functional design characteristic for Bockslaff. In the second floor there are four bedrooms for guests, office for pastor and large prayer hall with altar.
Images
---
References
Enciklopēdija Rīgas ielas, 2.sējums, Rīga, 2008, 23.lpp.
Zilgalvis J. Mācītājmuižas Latvijā. Rīga, Elpa, 2002, 39., 168.lpp.