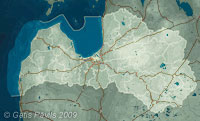 | | |
| --- | --- |
| Coordinates: | 56°31'53,17'' N 21°11'23,02'' E Google Maps |
| | |
| --- | --- |
| No: | 17 (full list of landmarks) |
| Category: | Ancient burials |
| Address: | (Liepaja district), Grobina region, Grobina, eastern part of town, meadows around Zirgu Street |
| Versions of name: | II Priediens barrow cemetery, Pastorate barrow cemetery |
| Age: | Early, medium, late iron age (D2, D3, D4), 4th - 10th century |
| Culture: | Scandinavians, Gotlanders |
| Value: | Archaeology |
| Conservation status: | Archaeology monument of state importance No.730. |
Picturesque, spacious meadows of Priediens with scarce, enormous pine-trees hide unique monument of culture. Once upon a time here were located more than 2000 barrows with burials of ancient Scandinavian colonists underneath. Throughout the last 100 years here have taken place numerous excavations. Tales of local people give a hint that barrows have been searched also by treasure seakers.
Ancient Scandinavians in the area of Grobina
Sometimes around 650 AD large groups of ancient Scandinavians (most likely - Gotlanders) crossed Baltic Sea and settled in the area of present day Liepaja Lake. As the time went by cultures of Scandinavians and local inhabitants - Curonians - came nearer to each other and supplemented each other until somewhere around the middle of 9th century Gotlanders were driven out by Curonians.
Burial-grounds of Scandinavians
In the area of present day Grobina once there was located one of the oldest town type settlements in Eastern Baltic. Near to it there were several cemeteries where the deceased were buried according to Scandinavian traditions. In vicinities of Grobina there are known Porani burials with at least 50 barrows and much larger Smukumi (Rudzukalni) barrow cemetery where once were more than 1000 barrows. But the largest, most impressive and most investigated Scandinavian burial-ground is Priediens barrow cemetery. Unfortunately up to this day there has survived only half - one third of the initial gravefield. But the remaining part is enormous anyway.
Barrows
Whole area of Priediens consists of barrows located rather close together. Nowadays they are hardly visible, diametre is 3 - 15 metres, height - 0,1 - 1,4 metres. We can be sure that in earlier times barrows were much steeper and more expressive. Barrows have different size, they have not been shaped after one example.
Each barrow earlier was marked with a vertical element - possibly - stone stele. Up to this day there has been found just one such stele - the only known Scandinavian stele in Eastern Baltic region. Most likely the landscape in Priediens few centuries ago was very unusual - as if landed here from some fantasy book.
Burials and finds
Numerous investigations testify that people have been buried here according to diverse traditions. In some barrows there is one burial, in some - two. In some burials has been buried body, in some - ashes.
Deceased got different things with them - and in spite of treasure seekers and several poorly documented excavations there has been obtained enormous quantity of valuable and unique items. In graves have been found armours, swords, spears. There have been found remnants of ceramics, beautiful keys, combs, necklaces, ornate belt buckles.
In areas between barrows there took place burial rituals and rituals linked to the cult of deceased.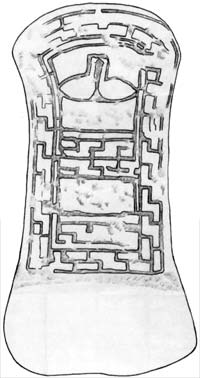 Stele found in Priediens - unique monument of art history
Stele
The most unusual find is gravestone - stele - found in 1987. This slab consists of light limestone, it is 70,5 centimetres high. Weathered surface from one side contains refined carvings - inside the ring of ornaments there are two waterbirds, their beaks meet. This stele most likely has been made in the second half of 7th century and placed on a grave of soldier.
There have not been found other similar steles in Eastern Baltic region. Several hundreds of such picture stones (bildsten in Swedish) have been found in Gotland and just a few - in area of Sweden outside Gotland.
Grobina Picture stone now is stored in nearby Liepaja Museum.
Investigations
Few archaeological monuments in Latvia have experienced such extensive investigations as the gravefield in Priediens - but so far have been investigated just some 5% of the total number of barrows in initial gravefield. There is information about interesting finds in 18th and 19th centuries. Of course, gravefield had a persistent place in tales of local people - treasure seekers for sure have searched treasures in many barrows in earlier times.
In 1929 - 1930 excavations were organised by Swedish archaeologist Birger Nerman - there were investigated 27 mounds. Another Swedish researcher Karl Alfred Gustavsson surveyed the gravefield - he managed to find and map 480 barrows. During these years Grobina was visited by many outstanding researchers of this region of Europe, Priediens gravefield was mentioned in many scientific publications.
In 1942 under the supervision of Eduards Šturms there were investigated 2 barrows.
In 1951 careful excavations were started by Pēteris Stepiņš, there were investigated more than 30 barrows.
In 1957 excavations were continued by Jolanta Daiga, there were investigated 11 barrows. Unfortunately the data of excavations from 1950ies have not been summarized and published and a lot of knowledge gained by these archaeologists is lost now.
In 1984 - 1988 there took place excavations by Courland expedition led by St.Petersburg archaeologist Valerij Petrenko and archaeologist of Latvian Institute of History Ingrida Ozere. There were explored more than 35 barrows.
References
Petrenko V. P., Urtāns J. The archaeological monuments of Grobiņa. Riga - Stockholm, 1995.
Petrenko V. P. A Picture Stone from Grobin (Latvia). Fornvannen 86, Stockholm, 1991.