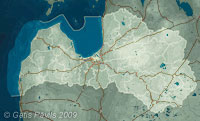 | | |
| --- | --- |
| No: | 1 (full list of landmarks) |
| Category: | Medieval castles, Palaces and manor houses |
| Address: | (Cesis district), Pargauja region, Straupe municipality, centre of Straupe village, east from Riga - Valmiera road, close to it, rehabilitation hospital. |
| Year of construction: | End of 13th century? |
| Architectural style: | Barocco (rebuilding of 1743) |
| Condition: | Good |
| Values: | Architecture, archaeology |
| Conservation status: | Archaeology monument of state importance No.579, architecture monument of state importance No. 6275 (together with the church). |
Rosens - then vassals of Riga Archbishopric - most likely have built Lielstraupe castle at the end of 13th century. Already in the end of 14th century there developed also the lively Straupe town around the castle - it perished in 17th century. Castle itself together with a complex of other valuable monuments has survived up to this day and belongs to buildings with the longest history of nearly uninterrupted use.
Castle is unique for Latvia with it's well preserved medieval chapel. Novadays this is Straupe medieval church - it still forms a part of castle and the destiny of both buildings has been closely associated.
Chronology
End of 13th century - Lielstraupe castle is built
Beginning of 17th century - castle is heavily damaged in Polish - Swedish wars, Straupe town perishes
1684 - the renewed castle burns down and is renewed again
1743 - castle rebuilt into residence of landlords, obtains Barocco forms
1905 - castle burned down
1909 - completed renewal, as designed by W.Bockslaff
1970 - partial renovation of the castle