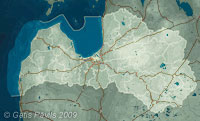 | | |
| --- | --- |
| Coordinates: | 57°21'44,9'' N 25°05'19,34'' E Google Maps |
Ungurmuiza manor house belongs to oldest wooden palaces in Latvia - it is constructed in 1732, rather soon after the Great Northern War. In these hard times in Russian Empire it was forbidden to construct stone houses outside St.Petersburg. Rebuilt in 1747. - 1753.
The ornate and harmonious Barocco style building has survived up to this day in surprisingly good condition, there has been preserved also a park with numerous enormous trees, several more Barocco style buildings - all together forming an outstanding example of cultural landscape. Manor house is adorned with distinguished wall paintings from 1750 - 1762 by Limbazi decorator Georg Dietrich Hirsch, there are other valuable monuments of art.
Chronology
1451 - Ungurmuiza as separate property is separated, named after Ungern family
1728 - Ungurmuiza (land property) is purchased by Campenhausen family
1732 - completed construction of the new manor house
1754 - both floors of manor house built, the centre of manor developed
1939 - family of Campenhausens leaves Ungurmuiza
1953 - 1989 - Kudums elementary school operating in the palace