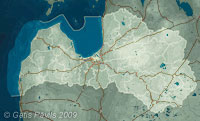 | | |
| --- | --- |
| Coordinates: | 56° 38'17,0'' N 25° 25'03,0'' E Google Maps |
Koknese castle - once one of the most beautiful castles in the area of present-day Latvia - was built shortly after 1209 in 30 metres high, wedge-shaped hill between Perse and Daugava rivers over a hillfort of Latgallians. The enormous building with five towers and forepart was built for Riga Archbishopric, along its defensive wall developed fortified town.
Koknese castle was abandoned in 1701 and nowadays here are impressive ruins. After the creation of Plavinas hydropowerplant lake the water reached the fundament of Koknese castle - thus ruins are endangered now and are fixed with concrete constructions below the water level.
Chronology
1209 - bishop Albert orders to build a well fortified castle in Koknese
First quarter of 15th century - enlargement, there is built massive and high tower - Long Henning
1577 - castle captured by troops of Ivan IV the Terrible
1621 - castle captured by troops of the King of Sweden Gustav II Adolphus
25th July 1701 - western towers of the castle are blown up, castle is abandoned
End of 19th century - castle ruins turn into popular tourism destination
1966 - after the construction of Plavinas hydropowerplant the water level of Daugava reaches fundament of the castle